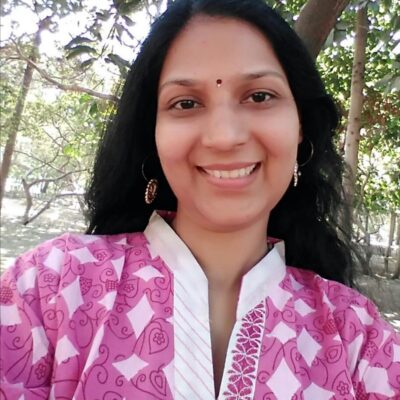 I provide Professional Counselling Services to clients from all walks of life and all age groups. I am in a thriving practice since 12 years specializing in CBT, REBT, Relaxation, Yoga and Breathing techniques. Clients are assured of full confidentiality during therapy. Various psychological issues such as Anger, Fear, Anxiety, Depression are dealt with empathy and effectively. Therapy and Counselling relating to Women empowerment, Pre & Post Marital Counselling, Parenting, Child and Adolescents are also provided. The satisfaction and relief I see on the client's face at the end of a session, is the driving force which motivates me to serve our society with renewed enthusiasm. In my Counseling sessions, on a day to day basis, I am amazed to see how Counselling and Therapy opens doors to a life of transformation.
Peace and smile on my client face at the end of counseling session is a constant is a constant source of inspiration to me. I would like to step into the field of online counseling so as o reach out to larger group of people and contribute towards wellbeing of our society.
Training + Education
MA (Counselling Psychology) Indira Gandhi National Open University
Delegate in Workshop on Tobacco Control and Cessation TATA memorial Center, Mumbai 2019 
Comprehensive Training Course in REBT and CBT (IPH) Institute of Psychological Health, Thane 2017 
Certificate Course in Counseling Skills ( Theory to Practice) (with Distinction) Maharashtra Medical Foundation, Pune 2011 
BHMS Maharashtra University of Health Sciences, Nashik. 2005 
Experience
Psychologist at Awakened Living Counseling Center, Pune I January 2014 – Present
Assisted Living Meditation Inc (US) in conducting International Yoga and Meditation Retreats for foreign participants in India for last 13 years.
Skills
Dealing with Mental health issues, Relationship, Marriage & Couple Counseling, stress management, anxiety, anger management, Communication and Counselling, REBT, CBT etc
Language
Hindi, English, Marathi
Name:
Dr. Varsha Choudhari
Language:
English, Hindi, Marathi
Categories:
Guidance and Counselling
Mental health, stress management, Anxiety, Depression, family, Marriage and relationship issues 
Manochikitsa Online Counseling & Therapy
Average rating:
6 reviews
Apr 17, 2022
I would suggest that you must take your online counselling sessions from Dr. Varsha Choudhari. She is available at Manochikitsa. I found this online website on the internet with the help of my friend. I had anxiety issues due to some familial reasons and I wanted to get rid of them. I did not want to leave my issues untreated so I started taking counselling sessions with my counselling psychologist, Mrs. Varsha. I never felt so relaxed about what I felt around her in the session and I think that was a clear sign that I did not make a mistake in choosing Manochikitsa. I was very comfortable when I was telling about myself during the session and explaining my issues to her. I was happy because I was able to see what was coming to me. I knew I would be fine and those sessions would work. I literally felt that. I made progress and I made recovery with the help of the best psychologist, Mrs. Varsha. For this I am highly obliged to Manochikitsa and my psychologist.
Apr 17, 2022
No other website can be as good as Manochikitsa for online counseling. This is what my experience says. A year ago I was diagnosed with anxiety and the treatment began. I was given therapy sessions but nothing worked. As per my friend's advice I decided to take online therapy from Manochikista. I thought I had already experienced offline sessions so it was also not an issue for me to book online therapy sessions then. I started taking sessions over the video call where I met Dr. Varsha Choudhari, a counseling psychologist and CBT specialist. The therapies given by her aided me and helped me in removing anxiety from my life. She has helped many people by using her therapeutic skills and I was one of those lucky people who got her guidance. She has been beneficial while assisting me in becoming more focused towards my career and future. I found a companion in her like who was always there for me and the one who stood by my side.
Manochikitsa is the best online therapy support platform. I would suggest you to go for it.
Apr 3, 2022
It is important for all of us to keep ourselves mentally healthy and only online counseling can help you if you are going through any mental health issue. You must consult with the best psychologist as I did once when I was depressed due to having some familial issues. I found my psychologist through Manochikitsa. I was connected with Dr. Varsha Choudhari. She really improved my mental health. She left no stone unturned to make me mentally fit. She guided me through the dark days and she was like a light that was helping me to find my way out of those days. I always found myself quite comfortable with her while having my sessions with her.
I appreciate her knowledge, her skills, professionalism, and the patience she always carries with her. She has been great since I started taking sessions. Now I do not feel any depressed feelings. I actually feel great after my counseling. She is the best online counselor and I will definitely recommend her to others for sure.
Mar 8, 2022
Online counseling has become a source to keep us mentally alive. I was facing challenges in my married life where my husband and I were mostly engaged in quarrels and arguments. Basically we used to vent out our frustration. After thinking a lot we both jumped to the conclusion that we both needed a counselor. Luckily I found Manochikitsa on the internet while checking some psychologists for marriage counseling experts and then we met our counseling psychologist, Dr. Varsha Choudhari. She listened to both of us and tried to make up some artificial setups where we demonstrated how we communicated with each other. She observed minute mistakes and told us to rectify our ways of communication. She improved our relationship's faults by using her methods and ways. She taught us skills which would help us to maintain our relationship with positivity.
She is the best psychologist and I will highly recommend her. If you want to connect with the best psychologist for online marriage counseling then I must say that you should go for Manochikitsa in order to get the best results. It can provide you the best psychologist for your broken marriage.

Thank you
Feb 25, 2022
I would suggest you to meet Dr. Varsha Choudhari once if you feel something is wrong with your mental health. I was connected with her thorough Manochikitsa and she gave me online therapy sessions for treating my anxiety. Therapy helped me to change my melancholic routine and forced me to accept a health routine like waking up early and do some exercises and meditation. It helped me to reduce the level of anxiety. My psychologist was the only force behind me who was pushing me towards the right way. She taught me some skills to fight with my anxiety and the other occurring problems due to anxiety. I learnt to cope with my own anxieties with her help. I fought with myself and won but without Varsha mam I could not do this.
There are many psychologists and there is no doubt but still I want you to choose the best one and for this just choose Manochikitsa. I strongly advise anyone wanting assistance to contact the best psychologist I would take the name of Manochikitsa.
Feb 4, 2022
Mental health concerns are quite normal for us but there is a solution available in the form of online counseling. Everyone is going through some challenges in their lives which are affecting them mentally but we must know how to handle our issues. If you cannot then entrust your concerns or issues, related to mental health, to a counselor who can better take care of them. Mental health is important to us and we must not ignore it. I can suggest you the best online counselor who can help you to deal with your mental health issues. She is a counseling psychologist who works for Manochikitsa. It is an online website which provides you with the best online counseling services. She is one of the best counselors and well trained and experienced counseling psychologists of the team. She basically helps you with all the emotional troubles and mental health issues you are going through. She has helped me a lot when I was feeling that my inner issues were bothering me and affecting my mental health.
I will recommend her to everyone who asks me about the best psychologist for online counseling.