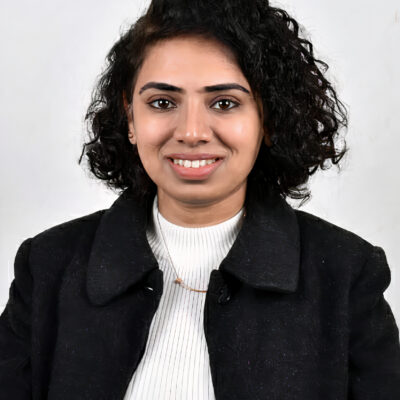 Compassionate Counseling Psychologist committed to serving clients by listening to concerns and guiding them in approaching behavioral, mental and emotional concerns. Certified in TEAM CBT and Client-Centered Therapy Polished in understanding individuals to identify psychological needs. Well-versed in various psychological techniques, including cognitive behavioral, mindfulness-based and emotion-focused therapies.
Trained CBT (LEVEL2) Psychotherapist following the T.E.A.M approach, primarily supporting young adults as they navigate the emotional ups and downs of major life transit, providing evidence based care for a range of challenges like Anxiety, Mild Depression, Low-Self Esteem, Loss and Grief, Habit, Stress Management. Gunjan Arya specializes in Cognitive Behavioral Therapy (CBT), and her approach to therapy is based on the T.E.A.M.-CBT model developed by Dr. David Burns at Stanford University School of Medicine who is also the author of Feeling Good, which has sold over four million copies.
In addition to weekly individual sessions, Gunjan also offers intensive therapy, providing large amount of treatment hours over a short period of time to provide targeted care to resolve symptoms faster.
Training + Education
Level 2:TEAM CBT, Feeling Good Institute – California USA

Level 1:TEAM CBT, Feeling Good Institute – California, USA

Master of Arts: Counselling Psychology IGNOU – New Delhi

Bachelor of Arts: Industrial Relations & Personal Management, 2005 Delhi University – DCAC College, South Campus
Experience
Panel Psychologist, 06/2021 to Current Lucid Mind – Ghaziabad, India
Peer Counsellor, 03/2021 to 06/2021 FindHope – New Delhi, India
Skills
Treatment planning, Building rapport, Stress management,  Relationship issues, Cognitive Behavioral Therapy (CBT), Depression Therapy, Anxiety Therapy
Language
Hindi, English
Categories:
Guidance and Counselling
Anxiety, Mild Depression, Low-Self Esteem, Loss and Grief, Habit, Stress Management
Manochikitsa Online Counseling & Therapy
Average rating:
1 reviews
Apr 4, 2022
Best, effective and very helpful