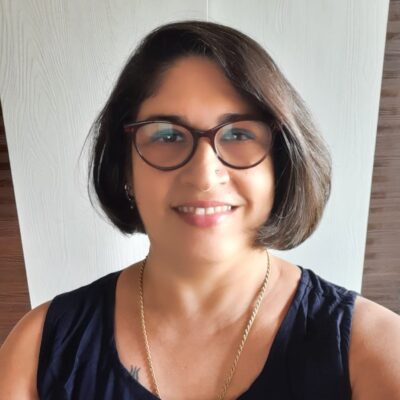 Lisa Varun Shukla is a sensitive, approchable and motivated counsellor with years of extensive experience in performing individual and group counselling. She has excellent listening, observational and communication skills. A Life and Positive Psychology Coach, NLP Practitioner who is passionate about helping others become the best version of themselves. She can take sessions in English, Hindi, Bengali and Gujrati. 
She believes in aiding people become the best versions of themselves and actively works towards them achieving it. She enjoys art, music, sketching and reading.
She has worked as a volunteer with the Delhi Government Helpline during lockdown last year. She can take sessions for a variety of issues be it, stress and anxiety, Marriage Counseling, Couple Therapy, relationship/ family issues, academic /study related issues, adjustment issues, coping problems, self-esteem, body image, work related, procrastination, depression, suicidal ideation, etc.
Training + Education
M.Sc. Counselling Psychology From Christ University, Bengaluru, India
B.Sc. (H.Sc.) Human Development Honors From Smt. J.D.Birla College, Kolkata , India
Positive Psychology Coach and Life Coach (International Coach Federation accredited) from Inspiring Evolution
Gatekeeper Training Program on Prevention of Suicide from Muktha Foundation
Certified NLP Practitioner from Christ Consulting Group in collaboration with Mind masters , completed NLP Level 1 & 2
Mindful Meditation from Christ (Deemed to be University).
Family and Couples Therapy from Muktha Foundation.
Emotional Freedom Techniques foundation course from Muktha Foundation.
Positive Psychology and Mindfulness, Understanding Grief and Loss and Geriatric Mental Health from Covid Response.
Covid 19 and Mental Health from American Psychiatric Association.
Experience
Working as a Counsellor in Christ Junior College, Bengaluru, India
Worked as Class Teacher, Co-Curricular activities In-charge
and Trainer for G.E.S.E (Trinity College, London) in T.I.M.E School, Hyderabad
Worked as Coordinator and Class Teacher in La Martiniere for
Boys School, Kolkata
Skills
She can address variety of issues ranging from stress and anxiety, Marriage Counseling, Couple Therapy, relationship/ family issues, academic /study related issues, adjustment issues, coping problems, self-esteem, body image, work related, procrastination, depression, suicidal ideation etc
Language
English, Hindi, Bengali, Gujrati
Language:
English,Bengali,Hindi, Gujrati
Categories:
Guidance and Counselling
Mental health, stress management, anger management, family and relationship issues 
Manochikitsa Online Counseling & Therapy
Average rating:
1 reviews
Jan 1, 2022
Mrs. Lisa Shukla has really been helpful in saving my marriage. She has played a crucial role and saved my married life. I was connected with Manochikitsa where I met with Mrs. Krishna, the experienced and well trained clinical psychologist. I was happy to get the best psychologist for my marriage counselling journey. I had a habit of doubt and my husband was frustrated with me because of that habit. Before marriage, he never complained about it but after marriage, he found it irritating one. It hurt me a lot. He once said we both should part our ways and it was the turning point of my life when I took the matter seriously and decided to take counselling sessions from a marriage counsellor. When I told everything to my psychologist, she suggested some ways to get my lost relationship back. During the sessions she never judged me while I knew I was the one who was wrong in the whole matter but she never showed any sign where I might look down on myself. I completed the counselling process with her and followed every single thing she told me to do. Because of her I am now able to enjoy my married life happily and now my husband does not complain anymore.
Thank you Ma'am and Manochikitsa